If you're craving a brat (short for 'bratwurst', not the annoying kid next door), but you don't have the space for a grill to scorch those sausages, then settle down because you aren't out of luck! We'll learn how to make brats when a grill isn't available. There are simple alternatives: a cast-iron pan and the oven are two common methods, but maybe you can step it up with a grill press or even a George Foreman Grilling Machine!
First Thing's First: Choosing a Brat
More often then not, bratwursts are pork-based sausages served on bread with mustard; however, these variants change depending on where you go in the world… and your taste buds of course!
Veal and beef brats are available, as well as those marinated in beer or stuffed with cheese. So figure out if you want a simple sausage to serve as a canvas for your creative alteration or something ready right out of its casing. (If you aren't trying to be Picasso in the kitchen, then skip the next step and get straight to the nitty-gritty.)
Once you've obtained your bratwurst, then place it in a plastic bag and store it in the refrigerator immediately to be prepared in 3-5 days, or freeze (0°F)it for longer. (If frozen, thaw in the refrigerator, in the microwave [cook immediately because the meat will likely become warm], or in cool water; never at room temperature!)
Second to Bat: Preparing your Meat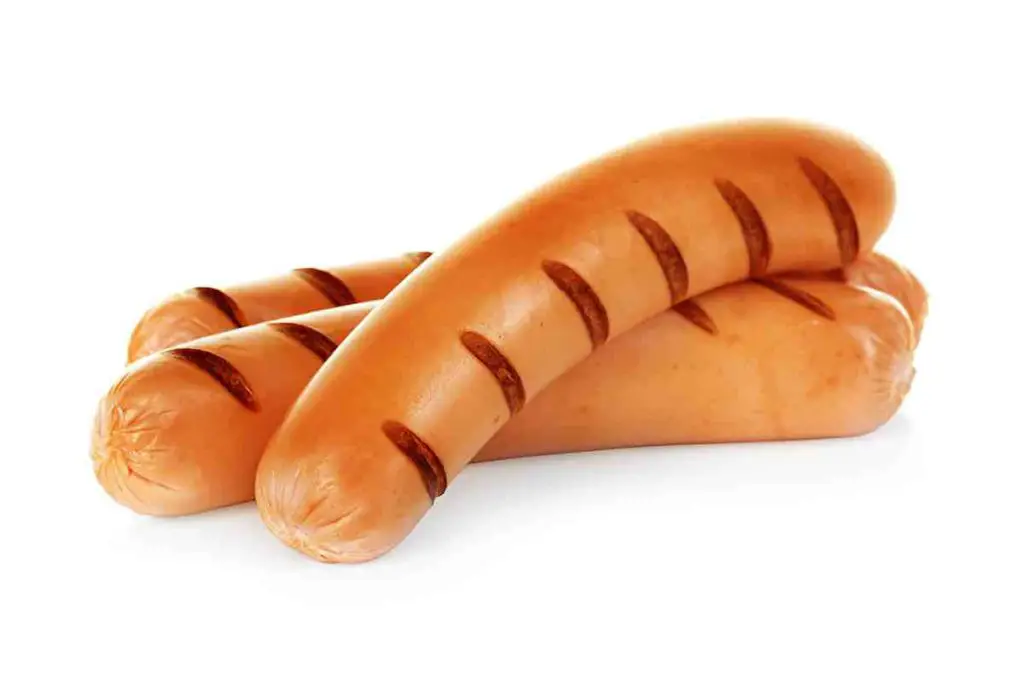 It's also a good idea to have a cooking thermometer to ensure the safety of all the creations that emerge from your kitchen. For bratwursts, an internal temperature of 145°F-160°F is what you're aiming for.
If you're squeamish about cooking your meat safely, an effective method of ensuring you're cooking your brat thoroughly is to slice from tip-to-tip while leaving a hinge on one side (like you're butterflying a fish; often times known as 'spatchcocked' when referring to poultry). Keep in mind that this does drain your brat of its juice!
Some people aren't as worried about undercooking their meat, while others even like it a little more on the rare side (like me!), but either way you will likely want to add some extra flavor: my mouth waters at the idea of a bed of sautéed onions, a butterflied brat, stuffed with sauerkraut, and a liberal zigzag of mustard from top-to-bottom; but you might want something completely different! Here are some common ingredients that you might consider for you perfect brat, but don't be afraid to experiment! (Sometimes the thing I like best seems the craziest before I try it.)
White, wheat, rye are all common, but don't be afraid to try your sausages naked. (Remember: the more bread you eat means less meat!)
Swiss, Ricotta, Feta, Goat, Parmesan… Who am I kidding? All cheese is good cheese! 😉
Sauerkraut, onions, potatoes, bell peppers, pickles, horseradish, relish, jalapenos, tomatoes, potato salad
Mustard (regular, spicy brown, or Dijon), ketchup, chili, hot sauce, barbecue sauce, butter, oil, vinegar
Nutmeg, marjoram, salt + pepper, garlic, anise, cinnamon, bay leaves, cayenne
Maybe you've got some time to marinate you brats before your festivities; if so, beer and wine (separately) make great bases, any vegetable stock (like onions), or maybe Dr. Pepper for a sweet sausage great with barbecue sauce!
Third but Not Least: Cooking to Perfection
If you're the patient type who believes some food is worth-the-wait, then consider slow-cooking your brat; though it might fall apart if you try to pluck them out of the pot with a fork! Put it in a crock pot on Low for 8-10 hours; or High for four hours.
If you want that crunchy outside and juicy inside, you might consider braising you brats: braising is a method of cooking where you lightly fry the food, then stew it in a closed container, allowing the food to soak up all of the flavors and turning periodically to cook on all sides.
If you're doing it in the oven, then 300°F- 350°F is agood place to start. (Remember: lower temperature for a longer time typically leads to a juicier brat. [That's a good rule-of-thumb for most food!]) Lay the brats out on a sheet (not touching one another), add vegetables, drizzle with oil, season as you see fit, then slide them in the oven. Cook for a total of 15-20 minutes while rotating the brats every five minutes to cook evenly and prevent burning.
If you have a George Foreman Grill then why are you reading this article! (I'm just kidding, we're glad you're here and we thank you for the support!) But you couldn't be in a better position to be cooking brats without a real grill, so you can breathe a sigh of relief. All you have to do is butterfly the brat, oil it up, then slap it sideways across the grill marks and play a game of charades for ten minutes.
Fourth and Final: Finishing Touches
Now you've got piping hot brats, an empty belly, and a mouth with more water than Niagara Falls. Your brat is the savory ship sailing into the seas of your stomach to satisfy your starvation, so it's time to load that ship with passengers that will play nice with your palate.
If you're protecting you brat with a bun, it's time to butter and toast the bread, and maybe slip a slice of cheese in there. Slice the brat long ways and place in the bread to provide nice gap to be filled with vegetables.
Once your bread and brat are married, then decorate them with whatever your belly begs: vegetables, more cheese, and more meat; there is no end to the possibilities. Drizzle any sauces on top or keep them on the side for dipping and to avoid soggy bread.
How To Cook Brats Without A Grill
There you have it folks: how to cook up delicious brats without a grill. You need not lie in bed at night filled with horrors of a brat-less breakfast when you wake up, or the sad, summer days where sausages elude your stomach. If you've got fire and a flat piece of metal capable of withstanding the heat, then you can prepare a brat for the finest of festivals. But, more than likely, you have a stove or an oven, so heating them up with your favorite spices is almost as easy as making a grilled cheese.